100 Amish Country adventures in one book
A travel writer offers an inside look at places to eat, things to do and where to find Amish Country's hidden gems.
What makes Ohio Amish Country so inviting?

Brandy Gleason, a travel writer who has fallen in love with our quaint region, has a few thoughts on the subject.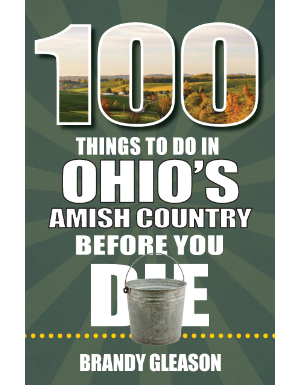 Her book, "100 Things to Do in Ohio's Amish Country Before You Die", shares the spectacular finds in the heart of Berlin, Ohio and the surrounding area. 

Gleason says that since she was a little girl, this part of Ohio, with its beautiful, rolling countryside, has held a special place in her heart.

"Coming here creates a sense of relaxation and peace, the food is ridiculously good, shopping is a dream, and the history in the surrounding areas is engaging," she said.  It is not just one thing that brings her back time after time,"it's that you never run out of things to do, and you're always finding new hidden treasures."

The idea for the book came as she realized the people in her Ohio Road Trips Facebook group were consistently asking about where they should eat, what they should do, and how to find the hidden gems.

Taking all the questions into consideration, she set out to find a publisher who would be willing to partner on her endeavor. Reedy Press was quick to accept her idea, and they began work on the project.

To begin the journey of writing a book, Gleason grabbed her notebook, a camera and set up her Heartland Sundance 294BH trailer at a campsite in Berlin.

"I had no idea how hard it would be to condense everything I loved about this place. There are more than 100 things!" she said. Yet, difficult choices had to be made, so she drove every road, visited all the stops, and acted as a typical tourist would. At the end of her stay, she said, "I fell in love all over again."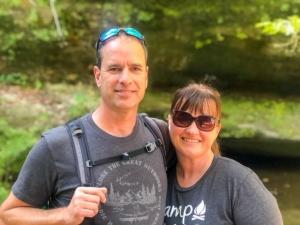 So what made her list? We can't give away all the secrets. However, within the pages, you will find ideas for exploring the outdoors, historic downtowns, her favorite restaurants, a can't miss cheese-maker, where to get custom heirloom furniture, and so much more.

Gleason will tell you she is not an expert, but simply a lover of travel who wants to share her experiences with others. Beyond this book, she's a contributor for Travel Awaits and Campspot as well as an ambassador for THOR industries and Heartland RVs. She has written travel guides as a freelancer and chronicles her journeys on her personal blog Gleason Family Adventure.  
Despite all this, she says she's "just a small-town girl who gets to write about the things I love with all the passion and authenticity I can."

Her aim in writing is always to encourage her readers to slow down, make time for the little things, and enjoy life to the fullest. And for us, that's a perfect description of what Ohio Amish Country has to offer.

Order your copy of "100 Things to Do in Ohio's Amish Country Before You Die" today and start planning your next trip.