This backyard bloom will have your stomach growling
You are probably not alone if you find frustration in the little yellow blooms that pop up from your otherwise perfectly manicured lawn every spring; but what if you could use them for something else
You are probably not alone if you find frustration in the little yellow blooms that pop up from your otherwise perfectly manicured lawn every spring; but what if you could use them for something else. Keep reading for an Amish Country recipe that will have your mouth watering.
Every year In Ohio Amish Country, we anxiously await spring. In addition to warmer weather, the season ushers in greening fields, baby animals, and domestic chores shift outdoors. Most of all, we look forward to spring delicacies: morel mushrooms, tender asparagus, baby greens.
While suburbanites might abhor the dandelions blemishing their yards, we solve the problem another way: we turn them into delicious dandelion gravy. This tangy, salty gravy made from fresh dandelion greens includes bacon and hard-boiled eggs. Locals debate whether to eat it over mashed, fried or boiled potatoes.
Each family makes their gravy slightly differently. And in fact, most of these family recipes are never written down, but passed down from mother to daughter.
When gathering dandelion greens, pick them young and tender, or they will taste bitter, and make sure to pick them from a yard that has not been treated with any chemicals.
Dandelion Gravy
Four strips of bacon, coarsely chopped
½ cup chopped onion
2 tablespoons flour or 1 tablespoon cornstarch
2 tablespoons water
1 cup milk or half-in-half
1 tablespoon sugar
1 tablespoon apple cider vinegar
Salt and pepper to taste
4 cups dandelion greens, washed, dried and coarsely chopped
2 hard-boiled eggs, peeled and chopped
Fry the bacon. Keep a tablespoon or two of bacon grease in the skillet. Fry the onion in the grease until tender. Mix flour or cornstarch with water until it's smooth – a fork works well for this. Add this mixture to the skillet, stirring constantly. Add milk or half and half until you reach your desired consistency, continuing to stir. Cook until heated through and bubbly. Mix the sugar and vinegar together until the sugar dissolves. Add to the skillet and mix well. Season with salt and pepper. Add the dandelion greens to the skillet and stir until they are just wilted. Add chopped eggs and combine. Serve over your family's choice of mashed, fried or boiled potatoes.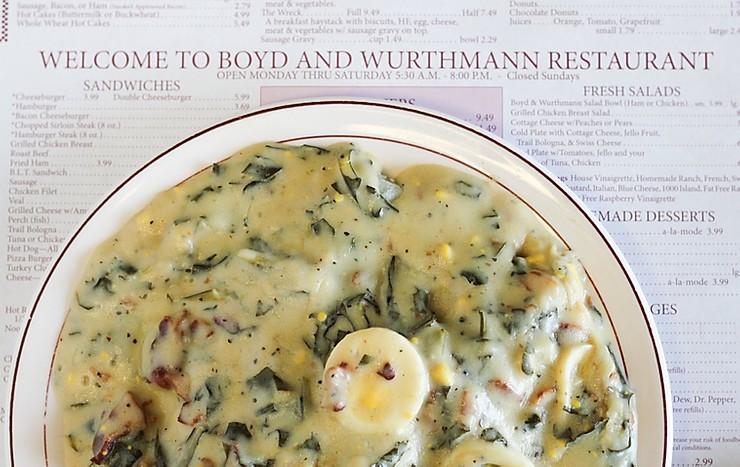 This recipe comes directly from our staff member Shasta, and like so many others, her family has passed it down from generation to generation. If you would like to leave the preparation to the experts we recommend ordering from Boyd & Wurthmann, Farmstead Restaurant, or Mrs. Yoder's Kitchen next time your in town while dandelions are in bloom.